Description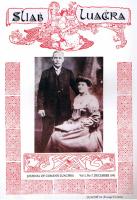 CONTENTS
Reamhra
Life Around the Forge
The Blacksmith
Outdoor Pastimes of Anabla Scholars
Standing Stones and Stone Alignments
Memories of the Emergency
Castleisland
In Lighter Vein, I'm Very Well Thank You.
Glimpses of Padraig O'Caoimh
Focail Gaeilge I Measc Ghnáthchaint na nDaoine
Going to the Bog
Deedie's Memories.. .Down the Arches of the Years
Memories of Rathmore by a Blasket Island Man
The Old Church in Gneeveguilla
Feast of Samhain
Choosing a Christian Name
Paidin O'Keeffe sa Dáil
My Life and Music – Maureen O'Carroll Cronin
Ballydesmond National School – 100 Years Old in 1993
Canon Edmond Walsh
Rathmore Temperance Library
Eoghan Ó CróinIn agus Scoil Eanna
Na Geana Fiodhaine
Umeraboy National School
A Fortune in Sliabh Luachra
Barraduff
Fr. Gerald Cronin, OFM
Folklore Extracts
Lent
Donncha Ó Loinsigh R.I.P.
Clothes Made Locally. Weather Lore as foretold by prevailing Winds. Articles of Clothing worn 40 years ago
Review of Cumann Luachra activities
Funerals
Patrons of Cumann Luachra
Editors Note
Then and Now
Cover Photograph: Mr. Denis J. Herlihy, Principal, Ballydesmond Boys' National School, 1893 to 1926, and his
wife Nora. Their daughter, Nora, was one of the founders of the Irish Credit Union Movement. The School
celebrated its centenary this year (see page 67).
Back Cover: An evocative scene outside Boherbue Creamery, in July 1938, as farmers queue up with their milk.
Published by Cumann Luachra, 1993, and printed by The Kerryman Ltd., Tralee, Co. Kerry.